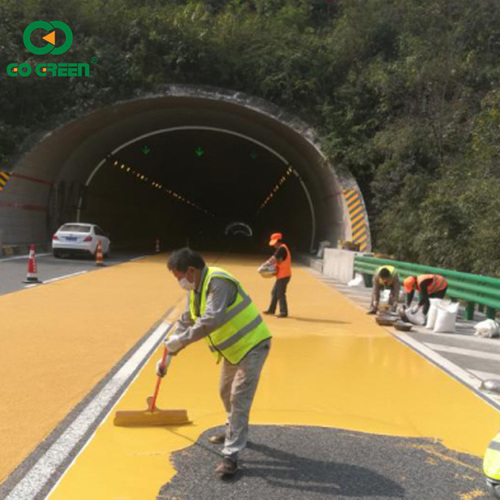 Color Non-slip Pavement
Product Description
Go Green Color Non-Slip Pavement (Color Ceramic particle anti-slip pavement) is a pavement anti-skid system based on polyurethane resin. It includes specially formulated polyurethane adhesive and various anti-skid aggregates of different specifications, sizes and colors, which are coated on asphalt or cement concrete pavement to make the ground rough and non-slip. The surface has obvious improvements in landscaping and road safety, also due to its super water resistance, it can effectively extend the road service life.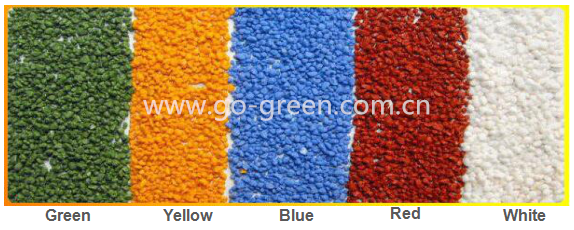 Thickness:
1 ~ 3 mm -- thin non-slip road - sidewalks, bicycle lanes
3 ~ 5 mm---medium-sized non-slip road surface---small motor vehicle lane
5~8 mm---Thick non-slip road surface---Heavy motor vehicle lane
Advantages
Eco-friendly: safe for environment, non-toxic and harmless, no smell.

Excellent performance: anti-ultraviolet, reduce heat island effect, reduce road temperature and extend service life.

Safety warning: the eye-catching color improves the warning effect, reduces the incidence of traffic accidents, and beautifies the road landscape environment.

Long lasting bright colors: variety types of colors, have good visual effects, especially used in harsh outdoor environments, and will not change color after long-term use.

Super wear-resistant: the super abrasion resistance, have better abrasion resistance than ordinary asphalt pavement.

Good anti-slip performance: the combined application of polymer polyurethane and wear-resistant aggregate effectively improves the anti-skid performance of the road surface.

Convenient construction: quick and simple construction, the construction period is short, and the quick-drying materials reduce the traffic inconvenience caused by the construction and reduce the project cost.

Good dispersibility: good water dispersion performance, safe and reliable, reduce noise.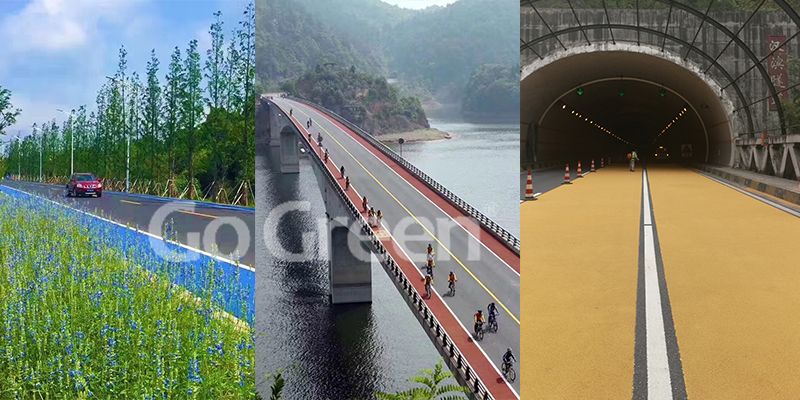 PU-50M type two-components polyurethane adhesive is a kind of adhesive specially used for color non-slip pavement, it has various colors, and can also be customized according to customer's requirements.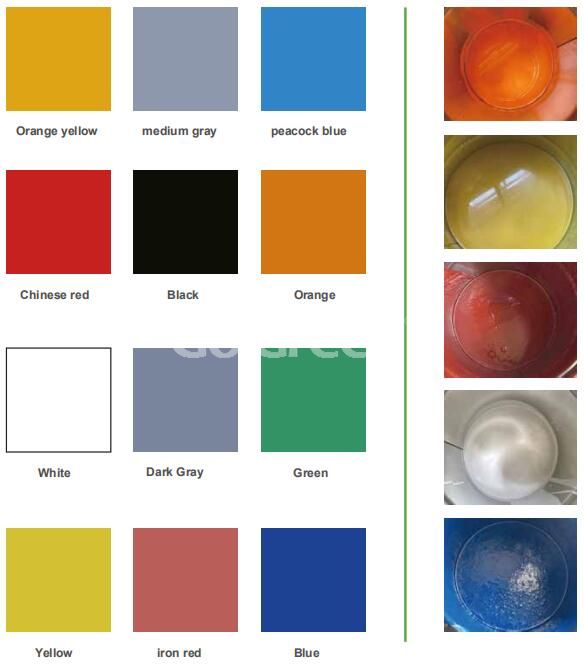 Component A: 20kg/galvanized steel drum
Component B: 5kg/plastic drum (packed in carton for external use, four pieces per carton)
Ceramic particles color available in red, green, yellow, blue, grey, white etc

Applications
Residential sidewalks, square, bicycle lane, landscape road, scenic area, non-motor vehicle lane, bus stop, bus & BRT lane, highway tunnel extrance, toll station, curves, ramps, speed bumps, etc.

Contact Us
1204, Yong Ye Building, No.2240 South Pudong Road., Pu Dong New District, Shanghai, Shanghai, 200127, China
Phone :+8615900795274