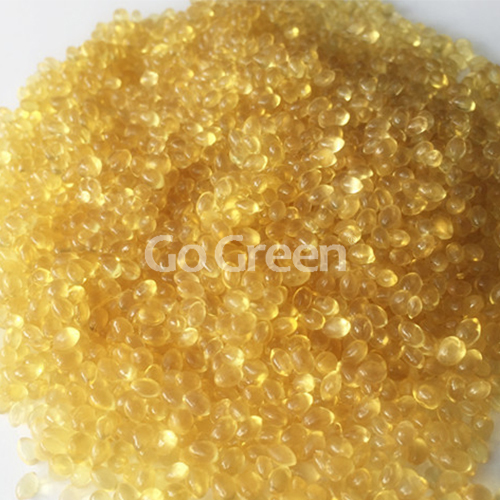 Porous Asphalt Modifier
Price And Quantity
Product Specifications
Construction

Permeable pavement, porous pavement, heavy traffic volume asphalt pavement, make concrete road to asphalt road projects, highway, airport runway, high grade pavement.
Product Description
Go Green porous asphalt modifier (high viscosity asphalt modifier) appearance is light yellow translucent granule, it's a kind of high performance asphalt mixture modifier, which is composited with various polymer. Through tackifying, reinforcing and filling on aggregate surface, as well as asphalt modified, elastic recovery etc multi-action, it can improve the asphalt mixture strength and stability. This product is easy to use, can be widely applied on porous pavement, permeable pavement fields.
The product has three kinds of mechanism:
A. Structure Stabilization
During the high temperature mixing, Go Green porous asphalt modifier will become soften, which can fully combine with the asphalt and aggregate and fill into the aggregate gap, thus to restrict the granule sliding and strengthen the mixture interaction, then the mixture structure will be more stable.
B. Reinforcement
The micro-phase crystallinity formed by Go Green porous asphalt modifier polymer has good strength, during the mixing procedure, it can wiredrawing to fibrous, the fibrotherus overlap each other to form a stereo net structure, make the aggregate firmly restrict in the network, thus to improve the integral asphalt mixture strength.
C. Deformation Recovery
Go Green porous asphalt modifier is in viscous flow condition when adding to the asphalt mixing plant at high temperature. Through the dampening and infiltration function, the modifier can uniformly cover on the aggregate surface. When temperature cooling down, it will stay at the elastic state and has good rigidity and strength.
Production & Construction:
A. Mixture Production
1. Dry mix craft: add Go Green porous asphalt modifier to the asphalt mixing tank with dried aggregate, the modifier usage is 6‰~8‰ of aggregate, after dry mixing 10S, then adding the asphalt and mineral powder for mixing 40S.
2. Wet mix craft: add Go Green porous asphalt modifier into the asphalt mixing tank in proportion ( 10~14% asphalt modifier, 90~86% asphalt), mixing 2~4 hours at the temperature of 180~190℃, after uniformly mixing, then it can produce out to finished product porous asphalt emulsion. Heating the porous asphalt emulsion to 170~175℃, then pumping to asphalt mixing plant directly for mixture production with aggreagte.
Remark: During the production, the aggregate should be dry to 185~195℃, uniformly mixing, all the aggregate should be covered with asphalt, no grey material, no block nor dissociation, the discharge temperature should be controlled at 180~190℃。
B. Mixture Storage and Transportation
OGFC porous asphalt mixture has less fine aggregate, fast to radiating, high asphalt viscosity, thus it shall to avoid long time transportation.
C. Paving and Compaction
Paving and compaction can be proceed with the normal construction procedure, as the high viscosity asphalt mixture will increase itself viscosity quickly with the temperature cooling down, so during construction, the mixture should be compacted at the high temperature.
Go Green porous asphalt modifier can be widely applied on:
1. Permeable pavement, porous pavement
2. Heavy traffic volume asphalt pavement
3. Make concrete road to asphalt road projects
4. Highway, airport runway, high grade pavement
Trade Information
Shanghai Port

Telegraphic Transfer (T/T)
1000 Per Month

10-14 Days
Contact us for information regarding our sample policy

5kg per bag, 4 bags/box
Middle East, South America, Asia

All India
Contact Us
1204, Yong Ye Building, No.2240 South Pudong Road., Pu Dong New District, Shanghai, Shanghai, 200127, China
Phone :+8615900795274